Features :
Closca's patented folding system: reduces helmet size by 55%
Folds super easily in no time at all
Interchangeable and detachable visor to protect your eyes from bad weather or sun rays
An NFC chip is present on the Closca foldable helmet allowing you to record your medical history and contact information. This chip is activated by a simple press on your smartphone.
Available in two colours: black and white
The Closca folding helmet is guaranteed for two years.
Adjustment wheel on the back to perfectly adjust the helmet to your head
Helmet complies with the strict safety standards EN1078 and CPSC, valid for Europe, Asia, USA and Canada
In the event of a fall, the helmet provides optimal cushioning thanks to the folding system that causes micro-movements that better distribute the impact over the entire surface: the helmet will never fold when you wear it.
Innovative ventilation system, numerous vents to keep your head cool
Very light helmet:
Video for the presentation of the Closca folding helmet:
Available in 3 sizes :
S: head circumference between 51.5 cm and 55 cm
M: head circumference between 55 cm and 58.5 cm
L: head circumference between 58.5 cm and 62 cm
And how do you measure your head circumference?
Nothing complicated, don't worry. All you need is a tape measure and a head. Place the tape measure around your head, passing in the middle of your forehead and 1cm above your ears.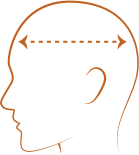 How does NFC work?
The NFC is on the front of the helmet. Between the logo and the visor. It can be used to register your helmet, add personal information, photos, phone number, allergies, etc. In the future, it can also be used to, for example, unlock public bicycles or scooters.
Discover also the beautiful helmets of the brand Thousand with a vintage look!