Features

:

Bern Lenox Bike Helmet :
Inner hull lined with EPS foam (additional protective layer inside the hull that absorbs some of the energy caused by the impact of a fall)
Highly resistant shell made of injected ABS
Integrated visor (non-removable)
Adjustable head circumference by means of an adjustable wheel
Breathable foams
11 ventilation openings and ventilation ducts
CE label, EN1078 standard (standard for cycling, rollerblading and skateboarding)
Available in two colours: black and champagne
Available in 3 sizes: please refer to the size guide.
Possibility to add an earmuff (sold separately) for the winter.
For a more "vintage" helmet, also discover the brand Thousand
Weight

:

510 grams

Which size to choose for this Lenox bike helmet? 
Choose your size according to your head size.
S: 52-56 cm
M: 56-60 cm
L: 60-64 cm
And how do you measure the size of his head? Nothing complicated, don't worry. All you need is a meter and a head. To be placed around his head, passing in the middle of your forehead and 1cm above the ears.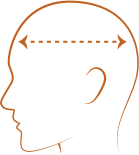 You can also find on our instagram more pictures of Lenox bike helmets and leave us your comments!