Le casque de vélo urbain très haut de gamme, fabriqué en Italie, de la marque KASK.
Features

:
Sangles en cuir végétales de très bonne qualité anallergique, lavable et ajustable en longueur
Boucle de libération rapide
Forme compacte pour une protection idéale de l'arrière du crâne
Large visière intégrée au casque de vélo urbain compatible avec le port d'une paire  de lunettes
Molette de serrage à l'arrière du casque permettant un ajustement occipital idéal
Casque entièrement fabriqué en Italie
Matériaux du casque aident à absorber efficacement les chocs
4 ouvertures pour l'aération sur le dessus du casque
Rembourrage procurant une excellente respirabilité
Le casque est livré avec la visière intégrée
Mousses avec traitement anti-bactéries détachables et lavables
Le casque est certifié aux normes européennes pour la sécurité (EN 1078)
Disponible en 5 coloris : noir, vert, champagne, bleu et blanc
A découvrir également : les casques Thousand de la collection Heritage. Canon ! Retrouvez encore plus de coloris : La collection Climate Collection se trouve here
Sizing Guide :
2 tailles pour ce casque de vélo urbain Kask, à choisir en fonction de votre tour de tête :
M : 51-58 cm
L : 59-63 cm
And how do you measure your head circumference? Nothing complicated, don't worry. All you need is a tape measure and a head. Place the tape measure around your head, passing in the middle of your forehead and 1cm above your ears.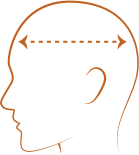 Weight

:

390g
Materials

:
Coque extérieur du casque de vélo urbain en polycarbonate à film de soie
Mentonnière en éco-cuir (cuir végétal)
Couche intérieur en polystyrène
Rembourrage intérieur en mousse (EPS) CoolMax