In detail:
Bike-friendly cut: long at the front to protect the legs and avoid getting caught in the wind / short at the back to avoid getting caught in the spokes

Zipper closure that allows you to "unzip" the overskirt from the waist to the knee in a flash

Inner anti-stretch lining that allows the overskirt to adjust to your posture and not ride up your legs when pedaling (bare legs or tights)

Orange stripe at the bottom of the skirt to ensure you have good visibility even from a distance

Internal pocket to store keys or phones and discreetly stow your skirt once you get off the bike 

French creation by the brand Cityrideuz

Made in Ivory Coast

Perfect for summer weather

Small built-in pocket to store overskirt
Size Guide

To Know: choose the skirt primarily based on leg length rather than waist size. The skirt is elastic and will be able to adjust to your waist. On the other hand, it is essential that it covers your legs!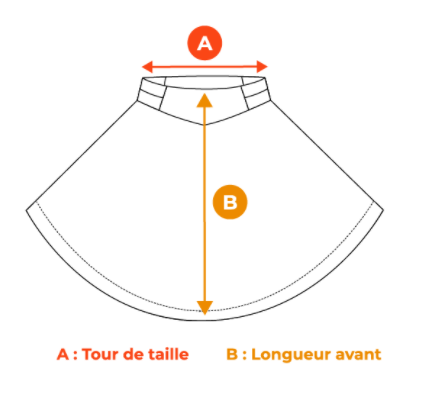 A: Take the measurement from your waist.
B: Take the measurement from your waist to below your knees.
| | | | |
| --- | --- | --- | --- |
| | S | M | L |
| A | 70 to 80 cm | 76 to 86 cm | 82 to 92 cm |
| B | 64 cm | 70 cm | 76 cm |
Brand History

Cityrideuz is a brand new brand dedicated to women's cycling mobility. At its origin, a cyclist, Sandrine, who imagined the overskirts of Cityrideuz from her personal experience:
"For women, putting on a dress or a skirt on a bike quickly turns out to be complex and discouraging: not too flouncy, not too tight, not too short ... in short, a real pain! Before, when I was cycling, I had to systematically adapt my outfits according to the weather, change when I arrived at work, etc. Living on a bike required a real organization and was a clothing constraint. So I started looking for a product that would allow me to cycle without worrying about wearing a skirt or dress (which is what I do 80% of the time!). So I came up with the idea of an "overskirt", which can be put on and taken off quickly like a piece of clothing, over your outfit. So I had to prototype this "super-skirt":
Long enough at the front to be able to pedal without discomfort but protect from the view until below the knee. It is also a great way to keep your eyes on the road and to protect your bike from being caught in the spokes. A pocket inside to put a mobile phone and store it easily. Reflective elements to be better seen by motorists. And the Cityrideuz overskirt was born! A garment that allows all women to cycle without worrying about their outfit. And many other accessories are to come?
We can't wait!
Composition

- Lightweight 100% cotton fabric of high quality: imitation denim or wax

Sizes

- Available in 3 sizes : S, M, L
camille

2022-01-13

Bonjour, J'ai des jambes correpondants à la taille M mais une taille correspondant à la taille S. Quelle taille prendre ? Du M ? Si la taille ne convient pas, peut on retourner l'article ? Merci

JE SUIS A VELO

Bonjour, la longueur de la jupe va très peu varier en fonction des tailles. En revanche là c'est au niveau de la taille que cela va évoluer. Il est donc préférable de choisir pour vous une taille S. Dans le cas où cela ne convient pas, vous pouvez précéder à un échange ou un retour en vous adressant à bonjour@jesuisavelo.com. Bonne journée :) 
camille

2022-01-13

Bonjour, J'ai des jambes correpondants à la taille M mais une taille correspondant à la taille S. Quelle taille prendre ? Du M ? Si la taille ne convient pas, peut on retourner l'article ? Merci

JE SUIS A VELO

Bonjour, la longueur de la jupe va très peu varier en fonction des tailles. En revanche là c'est au niveau de la taille que cela va évoluer. Il est donc préférable de choisir pour vous une taille S. Dans le cas où cela ne convient pas, vous pouvez précéder à un échange ou un retour en vous adressant à bonjour@jesuisavelo.com. Bonne journée :) 
Voir tous les produits de la marque