In detail
Adjustable elastic strap on top very convenient for drying laundry, securing your flip-flops or your favorite coffee cup

Slots available on the bottom of the bag to pass straps through and have even more storage options

Reflective details for added visibility
Reflective details for added visibility

Roll-up closure for adjustable total volume (see size guide)

Waterproof and lightweight coating

Extra strong abrasion and tear resistant fabric (Rubberized nylon provides extra protection against rubbing and abrasion)

Welded seams for complete waterproofing

Hands-free air discharge cutout so you can compact the bag

Tough, secure three-point attachment system with reinforced velcro straps (bag attachment points reinforced with Hypalon)

Lightweight HDPE thermoplastic molded section on the bottom of the saddlebag to reinforce its structure and ensure stability
Size Guide
Available in 2 sizes: 14L and 17L
14L: 33cm (rolled up max) / 48cm (rolled up min) x 18cm x 16cm
17L: 35cm (rolled up max) / 52cm (rolled up min) x 19cm x 18cm
14L: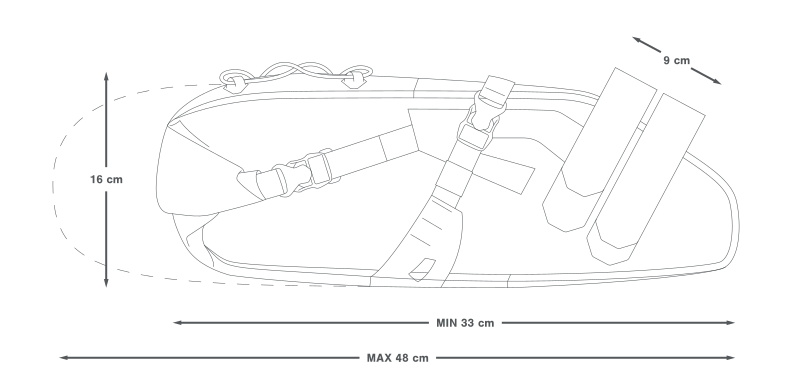 17L: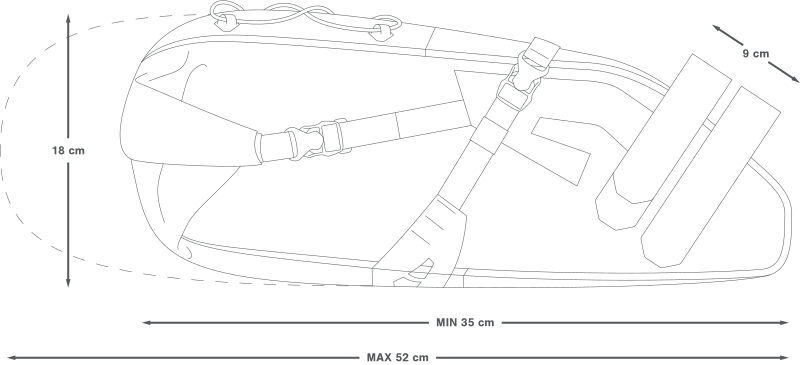 Beware! Check that your seatpost has a saddle outlet of more than 8 cm whether it is for the 14L or 17L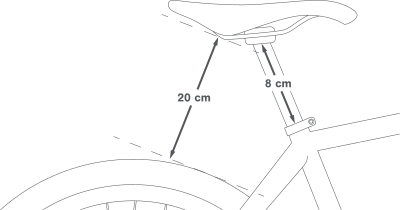 Care
Wash the pannier by hand with a mild diluted soap if needed and let it air dry.
Do not machine wash or dry. Do not iron.
Brand History
Apidura is first and foremost a small family business that has made it its mission to solve the most common problems encountered by cyclists. With its ultra-light transport solutions, the brand wants to meet the expectations of both bikepackers and cyclists. Ethics are also at the heart of Apidura's approach, with products designed to be long-lasting but also easy to repair. Based in London, the brand's team has cycled all over the world to try out the proposed solutions and test them in real-life conditions, to always find a new way to improve.
Compact

-

Composition

- Three-layer laminated fabric developed by APidura, Hypalon, Thermoplastic HDPE

Dimensions

- 14 L: 33 cm (maximum rolled) / 48 cm (minimum rolled) x 18 cm x 16 cm, 17 L: 35 cm (maximum rolled) / 52 cm (minimum rolled) x 19 cm x 18 cm

Lightness

-

Weight

- 14 L : 350 g, 17 L : 425 g

Reflective

-

Sizes

- Available in 2 sizes: 14 L and 17 L
Show more info
Be the first to ask a question about this product!
Voir tous les produits de la marque