In detail
Waterproof (10.000mm)

Fabric that is soft to the touch, squeak-free and allows you to make loose movements comfortably

Protected seams

Reflective stripes on the sleeves that you can roll up to hide them when you want

Adjustable hood built into the jacket via the collar

Reflective detailing on the back

Pockets at the black elastic waistband

Internal pockets

Waistband and handles effectively protected from wind by a lining

Breathable lining to keep you comfortable on your bike rides

Ventilation zips under the arms

High neck to protect you from gusty winds

Designed in Dublin, made in a family-owned company in Poland

Colors: black, red, khaki, navy blue and yellow

Sizes: T1 or T2 (see size guide)

Recycled inner tube fasteners

Thought for urban cyclists: waterproof, extra light, breathable, reflective details, easy access pockets but most importantly super pretty!

Waterproof nylon

Mesh lining
Size Guide
T1 (S/M) = 34 - 38

T2 (M/L) = 38 - 42

T3 : In the works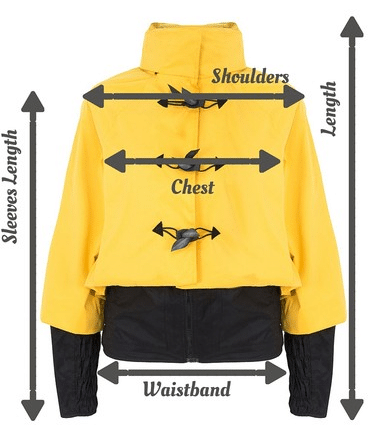 Brand History
Georgia in Dublin is first and foremost a family story, as the brand was created by a mother and daughter. The objective of this Irish brand? To create products that are both aesthetically pleasing and functional for everyday use. To reconcile the two, mother and daughter have shown ingenuity and creativity in creating original pieces that are rarely found elsewhere.
What's more, Georgia in Dublin is also committed to environmental projects. In this sense, it has opted for made in Europe, but also for little extras that make a difference, such as jacket fasteners made from recycled inner tubes collected in its Dublin bike shops.
Colors

- Available in 5 colours: yellow, khaki, navy, black, red

Raincoat

- 10.000mm
Marie

2021-05-03

Vous indiquez qu'une taille 3 est en cours de création, savez-vous à quelle date cette taille sera disponible ?

JE SUIS A VELO

Bonjour, malheureusement, on n'en savons toujours pas plus sur la création d'une taille 3. Cela devrait arriver prochainement, mais la marque ne nous a pas encore communiqué d'échéance.

Si nous venions à ajouter une nouvelle taille à la Bronte, nous le communiquerions sur nos réseaux sociaux, n'hésitez pas à nous y suivre ! ;-)
Camille

2021-04-09

Bonjour, pourriez-vous m'indiquer quelle taille commander lorsque l'on fait une taille 38 ? Sachant que la T1 correspond à une taille 34-38, et la T2 à une taille 38-42

JE SUIS A VELO

Bonjour ! La veste Bronte est une veste qui se porte davantage lorsqu'il fait froid (donc vous mettriez un pull en dessous), on vous conseille donc de prendre la taille T2. Si jamais la taille n'allait pas, nous pouvons vous échanger la veste sans aucun frais pour vous. 
Voir tous les produits de la marque