Details
Elastic waistband to keep the rain cape strapped on and prevent it from flying off

Front waterproof zippered pocket to carry your essentials dry

Adjustable, head-tracking hood (to ensure you have good visibility when you ride)

Elastic drawstring at the collar and in the hood of the bike poncho to ensure no water drops get through

Can be worn two ways (three snaps on each side to create sleeves or otherwise simply worn as a cape)

Stitching and reflective details for better visibility at night or in bad weather

Storage pouch with carrying strap for maximum ease of use and transport

Dimensions: 130cm x 97cm

One size

Weight: 460g, light enough to carry anywhere

Colors: available in black, navy, red or yellow

Latest model of the 3.0

Composition:
Three layers for a waterproof and breathable poncho
300T Polyester layer (the highest quality standard on the market)
TPU waterproof 12000 mm membrane
Breathable membrane (knit)
Image showing point by point the different features of the rain cape :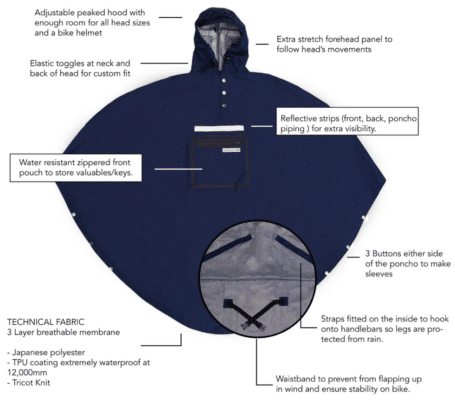 Brand History
Founded in 2016, The People's Poncho is an English brand that specialises in making rainwear. And it is a real expertise that it is now able to showcase thanks to numerous improvements over the years. A single poncho is what People's Poncho has been developing since its creation, which makes it a true specialist in this accessory for urban cyclists. This is the third version of this rain poncho jacket, proof that the brand has been able to develop its product over time.
They have made several improvements over time to People's Poncho products and this is what has allowed them to create a truly waterproof model (even if we don't like clichés, when it comes to rain, the English know what they are talking about!)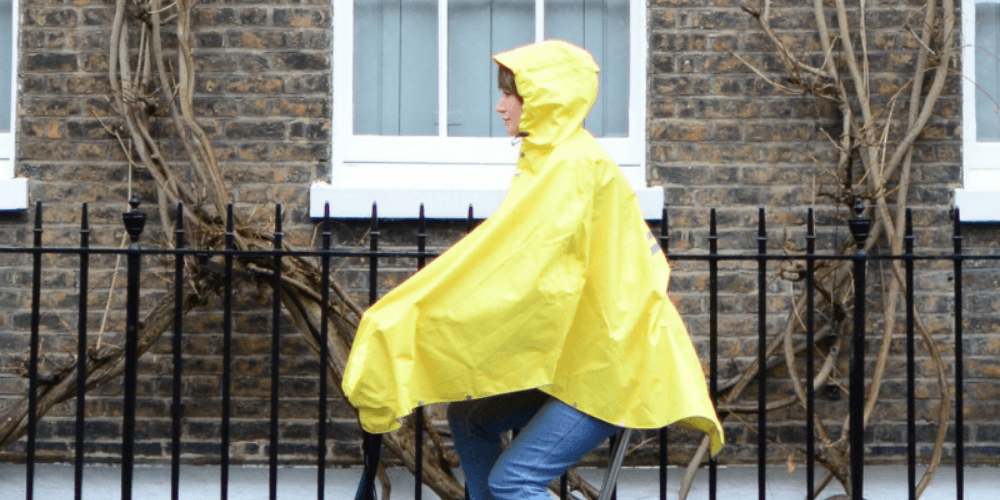 Colors

- Available in 4 colours: yellow, navy, black, red

Windbreaker

- To protect you in all weather conditions

Raincoat

- Waterproof internal pocket to keep your stuff dry

Reflective

- Reflective stitching and details for better visibility at night or in bad weather
Nassira

2022-11-27

Bonjour S'agissant d'une taille unique , peut on avoir la longueur et largeur du poncho ? Car je souhaite l'offrir à mon mari qui mesure 187cm et s'habille en XL : je voudrais donc être sure que cela convienne. Merci

JE SUIS A VELO

Bonjour, les dimensions du poncho sont les suivantes : 130 x 97 cm. Notre modèle, sur les photos, mesure 1 m 90. Le poncho devrait convenir sans soucis à votre mari ! Il sera ravi du cadeau, on en est sûr ! Bonne journée :) 
Frédéric

2022-11-18

Bonjour, Le casque rentre t-il dans la capuche ? aucuns modèles ne le montre... Merci

JE SUIS A VELO

Bonjour, selon le profil du casque la capuche peut sans aucun souci passer au-dessus. Bonne journée :) 
Chris

2022-09-22

Bonjour, serait-il possible d'avoir des photos des sangles à l'intérieur ? Est-ce uniquement pour attacher au guidon, ou bien passer les mains dedans ? Merci!

JE SUIS A VELO

Bonjour, vous pouvez voir les sangles au niveau des mains sur les photos de la version orange. Celles-ci permettent de passer les mains dedans pour maintenir le poncho tendu. Bonne journée :) 
Justine

2022-07-27

Bonjour La pochette de rangement est elle a part ou liée au poncho style poche ? De plus un sac à dos est il possible sous le poncho ? Merci beaucoup ☺️

JE SUIS A VELO

Bonjour,

Il s'agit d'une petite pochette à part, avec une courte bandoulière pour la transporter. Il est possible de mettre un sac à dos sous le poncho.

Bien cordialement 
Nathalie

2022-07-05

Bonjour quels sont les détails refléchissants à l'arrière de cette cape ?

JE SUIS A VELO

Bonjour, 2 bandes réfléchissantes sont placées à l'arrière du poncho pour être vu même de dos. Bonne journée :) 
Anne-Marie

2022-05-25

Bonjour, Le poncho vélo urbain-The People's Poncho est-il à taille unique? Merci pour votre réponse.

JE SUIS A VELO

Bonjour, oui tout à fait ! Ce poncho est taille unique et est pensé pour convenir aux plus petits comme aux plus grands. Bonne journée :) 
Claire

2022-05-10

Bonjour, y a -t-il possibilité de porter la cape avec un sac à dos sans que cela gêne la protection contre la pluie ? Merci d'avance pour la reponse

JE SUIS A VELO

Bonjour, oui tout à fait si votre sac n'est pas trop gros, un petit sac de ville sera glissera parfaitement en-dessous. Bonne journée :) 
Hugues

2022-01-14

Bonjour, Je souhaiterais savoir la taille du poncho une fois plié ? Merci

JE SUIS A VELO

Bonjour, une fois plié, le poncho se range dans sa pochette pour un encombrement minimum, les dimensions de celle-ci : 15 cm de largeur / 26 cm de hauteur / 6,5 cm d'épaisseur. Bonne journée :) 
Hugues

2022-01-14

Bonjour, Je souhaiterais savoir la taille du poncho une fois plié ? Merci

JE SUIS A VELO

Bonjour, une fois plié, le poncho se range dans sa pochette pour un encombrement minimum, les dimensions de celle-ci : 15 cm de largeur / 26 cm de hauteur / 6,5 cm d'épaisseur. Bonne journée :) 
Elise

2021-12-04

Bonjour, Pour ne pas perdre en sécurité en cas de pluie, peut-on porter le casque sous la capuche du poncho ? Merci pour votre réponse. Elise

JE SUIS A VELO

Bonjour, oui tout à fait. Vous pouvez porter un casque sous la capuche de votre poncho. Bonne journée :) 
Elise

2021-12-04

Bonjour, Pour ne pas perdre en sécurité en cas de pluie, peut-on porter le casque sous la capuche du poncho ? Merci pour votre réponse. Elise

JE SUIS A VELO

Bonjour, oui tout à fait. Vous pouvez porter un casque sous la capuche de votre poncho. Bonne journée :) 
Thomas

2021-11-13

Bonjour, Quelle est la respirabilité de ce poncho ? Y a-t-il des aérations prévues ? Merci

JE SUIS A VELO

Bonjour,
Le Poncho est conçu dans un tissu qui laisse passer l'air (Polyester tissé). Egalement, lorsque vous l'étendez au dessus de votre guidon, l'air passe en dessous, ce qui confère une bonne respirabilité. Pas d'aérations en revanche pour garder une bonne étanchéité. 
Bien cordialement
CAROLINE

2021-07-13

bonjour, Cette cape est-elle assez grande pour porter un sac à dos ?

JE SUIS A VELO

Bonjour, oui si le sac n'est pas trop grand
Voir tous les produits de la marque