Features:
Urban bike helmet with removable visor and integrated light from German brand Abus

Protection visor against rain, wind, dust, insects..

Removable, clear visor (compatible with prescription and sunglasses)

Large integrated rear LED for 180° visibility

3 push-action lighting modes

Powered by CR2032 battery

Great comfort of use thanks to a padded, removable and washable interior

Clip on the back of the helmet for precise adjustment and optimal safety

ABS hard shell

Convenient and quick magnetic closure strap

Insect vest

Sophisticated ventilation system: 5 air inlets and 8 outlets to regulate temperature and keep your body warm.air outlets to regulate temperature and keep you cool (no doubt about it)

European CE EN1078 safety compliant helmet
Combined helmet
Ponytail and braid compatibility

Available in 2 colors: black and white

3 sizes M/L/XL (more info in the size guide):

M: 52 - 58 cm

L: 56 - 61 cm

XL: 58 - 63 cm
Weight: 460 grams for size M, 520 grams for size L, 540 grams for size XL
Size Guide

Choose your size based on your head size.
M: 52 - 58 cm
L: 56 - 61 cm
XL: 58 - 63 cm

And how do you measure your head size? Nothing complicated, rest assured. All you need is a tape measure and a head. Place the tape measure around your head, passing through the middle of your forehead and 1cm above your ears. And there you go, this urban bike helmet is for you!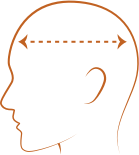 Find here the product data sheet.


And also check out thefoldable helmet from Overade, for even less clutter ;-)
Be the first to ask a question about this product!
Voir tous les produits de la marque