Details
Model made entirely in France

Matte varnished anti-scratch thermoplastic resin boot.

Fringe in a nice full grain leather

EC EN 1078 standard

Optional (40?): helmet equipped with magnets allowing the installation of a visor (crystal or smoke). Can be applied to the Ino helmet with a snap of the fingers.

Detachable and washable inner liner

5 year warranty and lifetime repairable helmet (changeable parts upon request)

Available in 8 sizes: S, S/M, M, M/L, L, XL, XL/XXL, XXL and (for a head size of 54 cm to 61 cm)

Available in 2 colors: red piping or brown piping

Weight: 460g only

Unisex
Choose my size for this Ino helmet:
Choose your size based on your head size.
| | |
| --- | --- |
| Head size | Height  |
| 54 cm  | S  |
| 55 cm  | S/M |
| 56 cm  | M |
| 57 cm  | M/L |
| 58 cm  | L |
| 59 cm  | XL |
| 60 cm  | XL/XXL |
| 61 cm  | XXL |
And how do you measure your head size? Nothing complicated, rest assured. All you need is a tape measure and a head. Place the tape measure around your head, passing through the middle of your forehead and 1cm above your ears. Write to us if you have any doubts.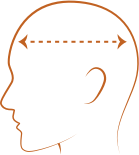 Brand history

Egide is a brand from Nantes founded in 2014. It all started with a simple observation: "With bicycle helmets, there was always something wrong. If the helmet was designed, it was not comfortable. If it was comfortable, it wasn't light enough. If it was light, it wasn't protective enough, nor was it very durable. So Egide came along! Their ambition? To design the perfect helmet combining all these elements: hyper helmets" explain Etienne-Marie de Boissieu and Benoît Denis who created the EGIDE brand in 2014.
At the meeting of "vintage" and "high-tech" aesthetics, the EGIDE urban bike helmet has a unique aesthetic. It is based on proven know-how. Designed in Paris, EGIDE helmets are manufactured in Nantes and Cholet. The production of the shell is based on some of the strictest manufacturing processes in the world in terms of safety; the production of the lining and interior, carried out for each helmet entirely by hand, offers an impeccable quality of finish.
Egide ? In Greek mythology, the aegis is a magical shield worn by the gods, especially Zeus and Athena. It is an exceptional protection intended to guarantee the safety of the person who wears it; but it is also a work of art in its own right!
Colors

- Red border, brown border

Lightness

-

Made in France

- Entirely made in France

Sizes

-
Be the first to ask a question about this product!
Voir tous les produits de la marque