New 2021 collection: it's now a new version, with a front pocket, and a new fabric, even more waterproof! Plus, you can now set your sights on the XL version of the bag with a capacity of 24 litres, we love it!
In detail
Convertible backpack carrier, very easy and quick installation

The Rixen & Kaul Vario (German made) hooks and center lock are hidden under a well-padded flap for more comfort when using as a backpack.

Adjustable hook spacing from 6 to 16mm to fit all luggage racks

Silver-coated brass clasp, snaps

Bag: Polyester lining, vegan leather - Polyurethane

Includes padded laptop sleeve (max. 15 inch), YKK zipper

Compatible with any standard luggage carrier (including electric)

Super roomy: 20L volume for the normal version and 24L for the XL version!

Maximum load weight: 10kg

Dry wax treatment that provides a degree of waterproofing.

Roll-top function that helps prevent water from entering through the top of the bag

Dimensions: 51 x 33 x 12 cm
Video presentation of the backpack carrier
How do you hang it?Hang it on your luggage rack :


Pull up the flap that is above the hooks

Clip the hooks onto your luggage rack. When you first use it, you will probably have to adjust the hooks with a small screwdriver to fit the width of your luggage rack. No need to adjust it afterwards.

Raise the straps of the backpack carrier towards the front of the bag and fasten them with the snap. This will prevent them from getting caught on your wheels while riding.

Finally, lock the bag to your luggage carrier by turning the safety lock next to the hooks. Your bag will not move! (And you will avoid any risk of snatching).
Care:
Take a damp, lint-free washcloth and some dishwashing liquid

.Wipe the bag in circular motions to remove stains

Rinse the soap-free washcloth and wipe the bag of any soap residue

Baby wipes can also be used to clean the cotton cloth and cotton straps.

It is possible that with use, you will make some white marks on your backpack carrier. As the bag is treated with a dry wax you will only need to run the hair dryer over the white mark to remove it. This will warm up the wax and you can massage the area to remove the mark.

You can also add additional waterproofing to the outside of your bag with a waterproof spray. Make sure the spray is compatible with vegetable leather. Spray the outside of your bag evenly with the spray and allow to dry. Finally, repeat if necessary.
Bag presentation video: what goes in?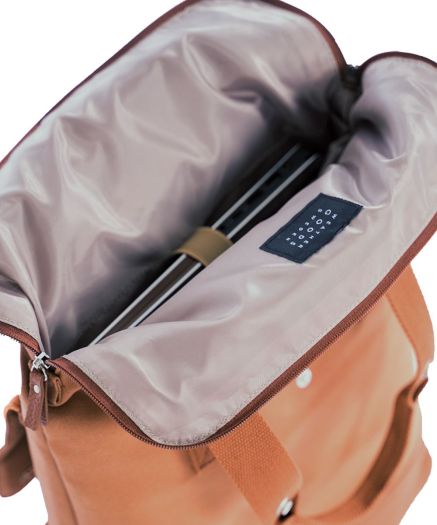 The bag can hold a laptop up to 15 inches
Brand History
Weathergoods Sweden is a Swedish brand. Just as you would expect from a Scandinavian brand, the products are both minimalist and functional, but also stylish and well thought out. Innovation and style are combined to offer real basics for the urban cyclist that can be used all year round and have a long life span. The brand is committed to the quality of the products it offers so that they can be used for as long as possible and thus preserve the environment from overproduction.
Values, ingenuity and style, what more could you want from Weathergoods Sweden?
With luggage rack hooks

- Rixen & Kaul Vario hooks and central lock

Capacity

- 20 litres for the classic version, 24 litres for the XL version

Colors

- Available in 3 colors : cognac, khaki, black

Raincoat

-
Clementine

2023-09-19

Bonjour J'ai du mal à comprendre comment les crochets se clipsent sur le porte bagage . Est il possible d'avoir une vidéo complémentaire?Est ça adaptable à tous les portes bagage ou y'a t'il un diamètre maximum à respecter? Si jamais le produit ne convient pas, est ce que vous procéder à des remboursements? Merci pour vos réponse

JE SUIS A VELO

Bonjour,

Les crochets se fixent simplement en appuyant dessus. Malheureusement à part la vidéo sur notre site internet il nous n'avons pas de vidéo supplémentaire. Ils s'adaptent sur tous les portes bagages standard tant que le diamètre du tube ne dépasse pas 20 mm. Si jamais le produit ne vous convient pas nous avons une procédure de retour de produit dans la rubrique échanges et retours, ensuite vous n'aurez plus qu'a suivre le déroulé tout simplement. 

Bonne journée la team JSAV
Chloé

2023-07-09

Bonjour, Ce sac à dos est-il étanche en cas de forte pluie ou simplement deperlant ?

JE SUIS A VELO

Bonjour Chloé, 

Non malheureusement ce sac a dos ne sera pas étanche en cas de forte pluie, mais seulement pour des petites pluies. 
Sév

2022-08-31

Bonjour, Ce sac est il compatible avec un siège enfant ? Merci

JE SUIS A VELO

Bonjour, si votre siège enfant laisse libre les barres de fixations, alors oui. Bonne journée :)
Cha

2022-07-06

Bonjour, Quelle est la distance entre les deux accroches ? Car mon porte-bagages n'est pas très long et n'accepte visiblement pas toutes les sacoches.

JE SUIS A VELO

Bonjour la distance entre l'extérieur des deux accroches est de 16,5 cm et entre l'intérieur des deux accroches de 10,5 cm. Bonne journée :) 
Claudie

2022-01-19

Bonjour, Quel est le poids du sac en taille normale ? Merci

JE SUIS A VELO

Bonjour, le poids du sac est d'environ 1,3kg. Bonne journée :) 
Claudie

2022-01-19

Bonjour, Quel est le poids du sac en taille normale ? Merci

JE SUIS A VELO

Bonjour, le poids du sac est d'environ 1,3kg. Bonne journée :) 
Marie

2021-06-30

Bonjour, Est-il possible d'avoir les dimensions des deux modèles ? Je n'ai trouvé que la capacité sur les caractéristiques. Par avance merci

JE SUIS A VELO

Bonjour, en taille normale le sac fait 40 cm de long roulé et 52 cm lorsqu'il est étendu, 32 cm de large et 14 cm de profondeur. En taille XL il fait 40 cm de long roulé et 52 cm étendu, 34 cm de large et 18 cm de profondeur.
Caroline

2021-05-16

Bonjour, le sac possède-t-il un système de verrouillage pour ne pas se le faire "arracher" ?

JE SUIS A VELO

Bonjour !
Il y a en effet un petit loquet central (voir sur les photos, il se situe au milieu des deux crochets). Une fois activé, il vient se placer perpendiculairement à la barre du porte-bagage. Il évite le vol à l'arraché. Le risque 0 n'existe pas, mais ce petit loquet est dissuasif :  il est toujours possible de le forcer, mais il faudra s'y prendre à deux fois ;)


Voir tous les produits de la marque