En détails 
Coque interne doublée par une mousse EPS (couche de protection supplémentaire interne à la coque qui vient absorber une partie de l'énergie provoqué par l'impact d'une chute)

Coque ultrarésistante en ABS injecté

Visière intégrée (non amovible) sur le casque de vélo Watts

Tour de tête réglable par molette ajustable

Mousses respirantes

11 ouvertures pour l?aération et canaux de ventilation

Label CE, norme EN1078 (norme pour la pratique du vélo, roller et skateboard)

Disponible en 5 coloris : ivoire, indigo, purple, champagne, noir

Disponible en 3 tailles : se référer au guide des tailles

Poids : 510 grammes

Possibilité de rajouter un cache oreille (vendu séparément) pour l'hiver

Guide des tailles 
Choisissez votre taille en fonction de votre tour de tête.


S : 52-56 cm
M : 56-60 cm
L : 60-64 cm

Et on mesure comment son tour de tête ? Rien de compliqué, rassurez-vous. Il vous suffira simplement d?un mètre et d?une tête. A placer autour de sa tête, en passant au milieu de votre front et à 1cm au dessus des oreilles. Et voilà, vous pouvez choisir le casque de vélo Watts qui vous ira !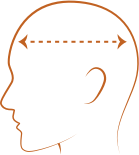 Histoire de la marque 
Bern est une entreprise privée de casques qui, depuis 15 ans, est pionnière dans le domaine des équipements inspirés de la rue et qui donne le ton en matière de style, de confort et de sécurité dans les rues, sur les pistes, sur les pentes et sur l'eau. Son équipe est passionnée par l'activité physique et le plaisir du vélo, et voilà un point commun avec JSAV ! Bern embrasse tous les aspects des activités que vous aimez et s'efforce de fabriquer des produits de haute qualité pour vous couvrir la tête.
Be the first to ask a question about this product!
Voir tous les produits de la marque