Features
Foldable helmet with ABS outer shell ? EPS inner shell

Adjustable straps with chin protection for added comfort

Lockable divider that helps adjust straps

Adjustable occipital support system

Inner foams of different thicknesses
.Different thicknesses
Size divided by 3 in folded position : super compact
Foam chin guard
Dimensions when folded: 21 x 11 x 16 cm
14 vents
EC EN1078 standards
Weight: 440 g for size S-M and 490 g for size L-XL
Available in three colours: white, navy, grey, or black
Same level of protection as a regular helmet on your bike
Urban look
Video of a cyclist introducing the folding helmet


Size Guide

Choose your size based on your head size.


Size 1: 54-58cm
Size 2: 59-62cm


And how do you measure your head size? Nothing complicated, don't worry. All you need is a tape measure and a head. Place the tape measure around your head, passing through the middle of your forehead and 1cm above your ears. And presto, this helmet is for you!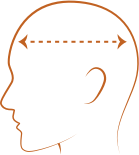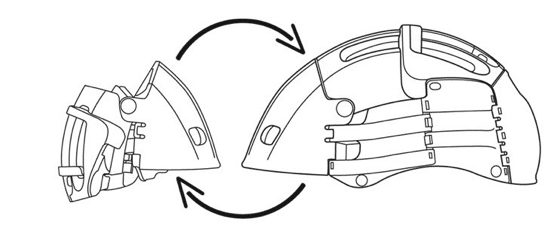 Difference in volume when the foldable helmet is folded and unfolded
Brand History
At the origin of ?origin of Overade ? Clément and Philippe. Their goal? To make sure that you no longer have to choose between freedom and safety. So they invented the folding helmet. And we love their philosophy: "The bike has a unique power: to change a long monotonous journey into a sum of amazing discoveries.
Your eyes are opened on a new horizon. You are happy. Now it's your turn to enjoy the city without these inconveniences thanks to this technical feat!
Compact

- Foldable helmet (size divided by 3)

Comfort

- Adjustable straps with chin protection for more comfort

Colors

- Available in 3 colours: white, navy, grey or black

Weight

- 440 g (S-M) and 490 g (L-XL)

Breathable

- 14 vents
Clara

2021-05-07

Bonjour, je suis intéressée ce modèle, mon tour de tête est 58 cm. Vaut il mieux prendre T1 ou T2 ? J'ai peur que la T1 soit un peu juste.

JE SUIS A VELO

Bonjour, 

Nous pensons qu'il vaut mieux prendre une taille 2 et le serrer au maximum. 

Si jamais le casque ne vous allez pas vous pouvez nous renvoyer un mail et nous vous l'échangerons avec une autre taille, sans aucun frais pour vous.  
Voir tous les produits de la marque