Fonctionnalités

:




Ces jambières sont étanches (résistent à une colonne d'eau de 10 000mm), coupe-vents et respirantes
Des détails réfléchissants sont présents sur les côtés et sur le haut des cuisses
Le sur-pantalon de pluie se replie sur lui-même et se range dans un filet prévu à cet effet
Une fonction de ceinturage permet de les enfiler en trois étapes très simples
Totalement étanche au niveau des fessiers avec un matériau triple couche qui protège des éclaboussures et de la boue de la roue arrière
Avant des jambières conçu avec un matériau bi-couche léger et respirant qui protège du vent et de la pluie
Ceinture intégrée et réglable en largeur avec un velcro
Bas des jambes réglable en largeur
Largeur réglable à l'aide des élastiques ajustables au niveau de la taille


Guide des tailles :
| | |
| --- | --- |
| Femmes et Hommes | Tour du milieu de la cuisse |
| XS | 43-44,5 |
| S | 45-46,5 |
| M | 47-48,5 |
| L | 49-51,5 |
| XL | 52-53,5 |

Longueur de l'entrejambe (pour la taille moyenne) : 40 cm

Comment installer les jambières ?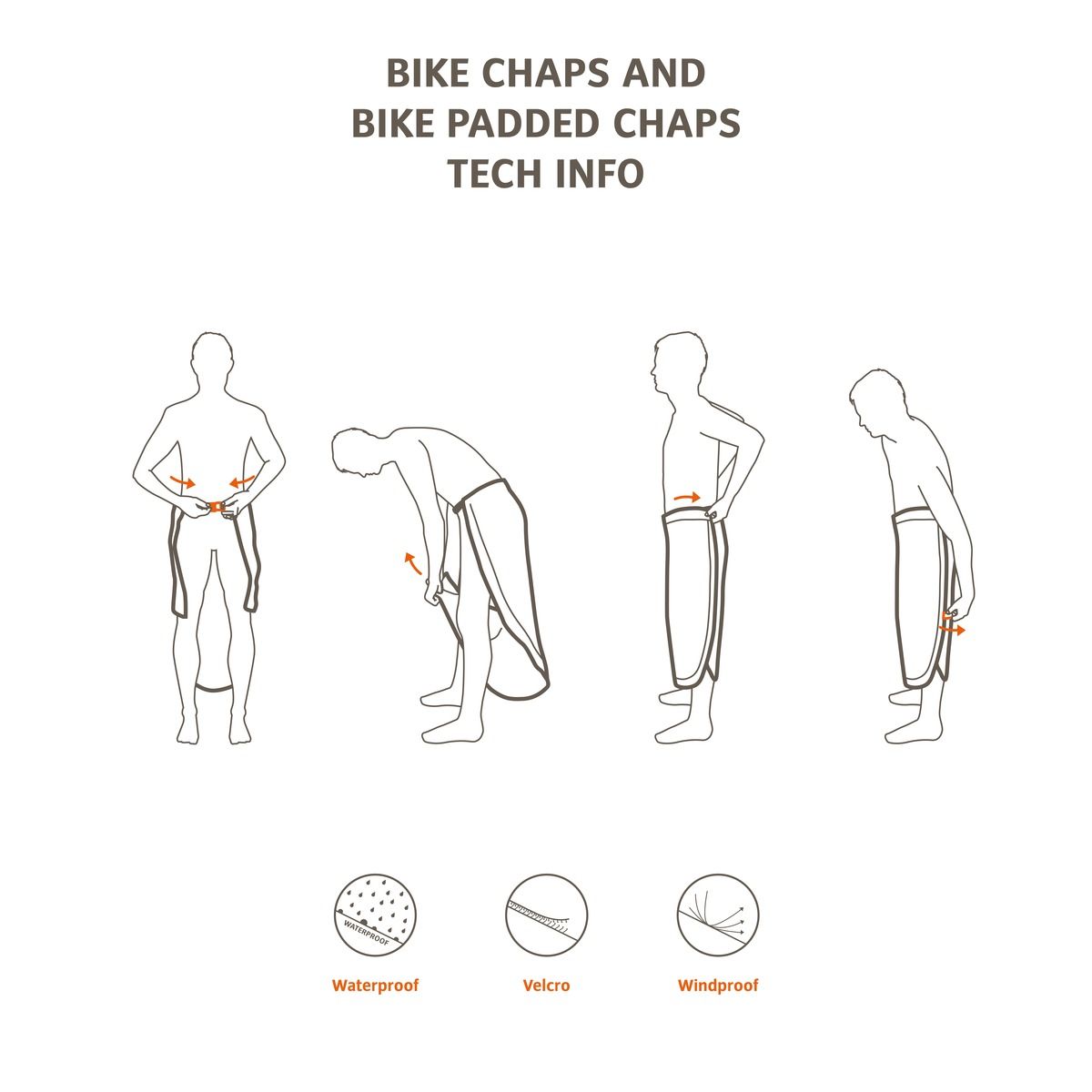 Passer la ceinture autour de la taille. Le clip doit être au niveau du nombril
Passer la partie qui pend (derrière vos jambes) à travers l'entrejambe et remonter-la jusqu'à la taille. Scratcher les scratchs qui vont ensemble au niveau de la taille
Enfin, scratcher les scratchs rouges au niveau des genoux
Ajuster comme il faut les jambières et vous être prêt à partir


Promis, après 2-3 entrainements, vous le mettrez en 30 secondes chrono !


Matière :
Partie ventrale des jambières - extérieur : 100% polyester
Membrane : 100% Polyuréthane
Partie dorsale - extérieur : 100% Polyamide
Intérieur : 100% Polyamide


Découvrez aussi l'ensemble de notre catalogue sur notre page Instagram et laissez-nous vos impressions en commentaire ;)
Be the first to ask a question about this product!
Voir tous les produits de la marque